What to see and do in Folkestone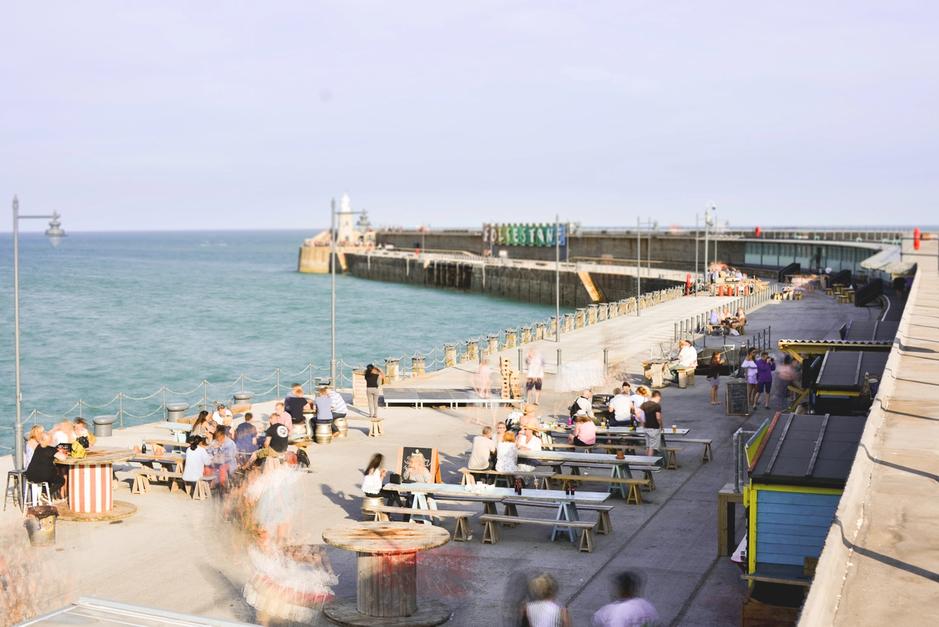 Folkestone. A seaside town full of art, good cuisine and amazing shopping experiences. It is in fact so rich in experiences that one might get lost and confused, so we prepared a handy "the best of Folkestone" list. Happy visiting!

ART IN FOLKESTONE

Folkestone is proud to have a large collection or art called Folkestone Artworks - the UK's biggest urban outdoor exhibition of contemporary art. Folkestone Artworks was created in 2008 alongside the first Folkestone Triennial, the festival of outdoor art. Now Folkestone has over 70 artworks in the permanent collection. You can download a map of the artworks from https://www.creativefolkestone.org.uk/folkestoneartworks/maps-and-routes
So have a walk, relax, look around and breathe the art in.

Our favourite artworks are:

Spencer Finch - "The Colour Of Water"
In 2010, Spencer Finch observed the colours of the sea in Folkestone and prepared a palette of 100 colours. He then created a large colour wheel that helps determine and describe the colour of the water. The viewer is invited to look through the aperture and match the colour of the water to one of the artist's suggestions. You can find this artwork at the Promenade lower path between the end of Clifton Crescent and The Grand.

Antony Gormley - "Another Time"
"Another Time" is a series of cast-iron sculptures of people spread around the world, and Folkestone has two of them. Gormley's artwork analyses the relationship between humans, nature, and the universe. The sculpture is located at the loading platform on Folkestone's Harbour Arm.

Lubaina Himid - "Jelly Mould Pavilion"
Lubaina Himid's sculptural pavilion resembles a ceramic jelly mould. The artist has been collecting them for many years. The artwork celebrates and memorialises the people from African Diaspora and their contribution to our culture. The artist believes that an honest conversation and an exchange of experiences help to heal the trauma. Himid's pavilion gives space for dialogue. It is placed on the Folkestone Boardwalk.


FOOD AND DRINKS

The Bao Baron
The restaurant serves freshly made Pan-Asian street food. They specialise in bao buns and ramen and only use local suppliers. Their menu changes often as they use seasonal Kentish produce. What doesn't change is inclusivity: there's always a good selection of vegan and gluten-free options. They are a family-run business. You can find them at 19 Guildhall Street.

The Folkestone Wine Company
The Folkestone Wine Company is a family-run business that stresses the importance of delicious food and good music. They also have countless types of wine so they are a perfect place for both wine connoisseurs and people who want to learn more about this marvelous drink. They are our neighbors on Church Street.

Pickup Pintxos
Pick Up Pintxos offers cuisine inspired by the Basque Country. Their cooking is both traditional and experimental. They use high-quality ingredients from Spain and also from Kent. They are definitely the number one place to go if you love Spanish cuisine and the tapas culture. You can find them at the bottom of The Old High Street.

The Potting Shed
One of the not-so-well-known secrets of Folkestone. Tucked at the end of an antique furniture shop of the same name, The Potting Shed bar is a speakeasy that transports you to the Prohibition era with its decor and menu. On booking, you will be provided with a password you need to enter the bar. They only use the finest ingredients inspired by Prohibition. Find them on 34 Rendezvous Street.

PEK - Planet Earth Kitchen
PEK's motto is "vegan for the planet". Their plant-based menu has many gluten-free items and in their meals you will only find unrefined sugars and sea salt. Their dishes are healthy, cruelty-free, and good for the planet - what more do you want? Find them on 10 Rendevous Street.


SHOPPING

Not For Humans Pet Boutique
The shop features a large selection of products for pets, handmade by local people. They also sell designer dog coats, leads and collars, dog walking utility bags, and, surprisingly, products for the house. The humans who run the store are absolutely lovely too. So come in and give a scratch to the owner's pet, Spanish Water Dog Brenda. The shop, like many others, forms part of the Folkestone Creative Quarter. Find them at 53 The Old High Street.


Richardson & Richardson - acrylic jewellery
The team, composed of mother and daughter, design and make all the products themselves (with the little help of the laser cutter called Bertha). They make their designs based on their many interests such as science, space, nature, and the geek culture. Their jewellery is beautiful and fun and they make bespoke designs too. Find them on top of The Old High Street.


Moo Like a Monkey
Moo Like a Monkey is a children's shop full of well-designed products. Their range is truly incredible with wooden eco-friendly toys, books, and Scandinavian and British-made clothes. In the shop, adults can relax and browse while the kids play with many toys provided. They are placed on 65 The Old High Street.

Foras
Last, but not least, we suggest you come to our store at 11 Church Street. We make our own fragrances and we currently have seven different perfumes, all designed with a particular person or occasion in mind. They are all locally made in Kent and unisex, and we don't use plastic so they are all eco-friendly too. We are a lifestyle store as well, offering a range of beautiful products for the house, candles, and books. We believe in helping and promoting local designers too. We also serve delicious coffee roasted in Margate for only £2! Come and visit us today!