Why shop local this spring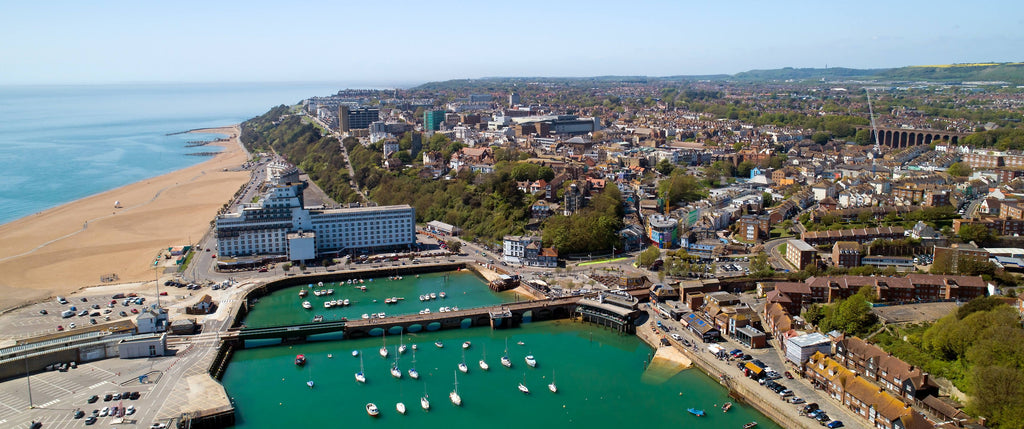 We all know that small independent shops are cute and cozy but there are many more advantages to shopping local. We gathered the eight biggest reasons to support local shops.
1. You help the local economy.
The British economy suffered a lot because of COVID-19 and by shopping local, you help restore the British economy as well as the local economy of Kent. Did you know that Folkestone's old town centre boosts with over 200 independent shops? We are one of them. By buying in our shop you directly support Kentish entrepreneurs and workers. We collaborate with multiple local businesses such as Shoreline Ceramics from Ramsgate and Curve Coffee Roasters from Margate.
2. It's better for the planet.
Shopping locally helps reduce the carbon footprint from transport. Over 60% of our products are locally sourced, including our fragrances made in Kent. Many local shops also choose to be greener than big chains that use plenty of plastic. Our packaging is plastic-free and we also only use paper bags.
3. You get a better shopping experience.
There's no space for a nice chat when you shop online, is there? That's why shopping face to face is better. At Foras, we never rush you and there's always time for a nice conversation too. Our clients are really important to us and we treat them like guests rather than just customers. It's important to us to be part of the community and to create one for our guests.
4. They have a great choice of products.
Local shops offer a lot of products made by local manufacturers and artists that aren't available online - from artisan coffee to zazzy jewelry. We are proud to be working with amazing designers such as Molly Pickle whose cards, notebooks, prints, and tea towels or our bestsellers. So come and grab a crab notebook or a squirrel card!
5. Shopping local helps to save jobs and create more new jobs.
Independent shops provide a big number of jobs to local communities. As we manufacture our own fragrances, soaps, candles, and incense, our shop employs five people in total - that's five jobs for local people. Multiply that by the number of independent businesses in Folkestone and you'll see how many jobs you help create by shopping local!
6. It helps shape the identity of the area.
Folkestone has recently been included in Lonely Planet's World's Best Regions to Visit in 2022 and it's in part thanks to its independent quirky shops. Folkestone's Creative Quarter has also been described by Inside Kent as one of Kent's best independent shopping areas. We are proud to be part of Folkestone's shopping hotspot and to help shape the identity of Folkestone.
7. You will find great quality products.
Local shops don't always have the budget to compete with the big brands in terms of advertising, so they focus on quality instead. Independent shops make sure that the products they sell are of great quality because they want the customer to come back, and we are not an exception. We strive to only sell products of amazing quality, be it candles or perfumes.
8. Shopping local saves you money.
Big supermarkets convinced us that local shops are always expensive but the research suggests that's not true. Many of the local shops are cheaper than the big chains - our shop included. Our quality products start at £3 for a bamboo brush - beat that, big chains!