The wonders of natural oils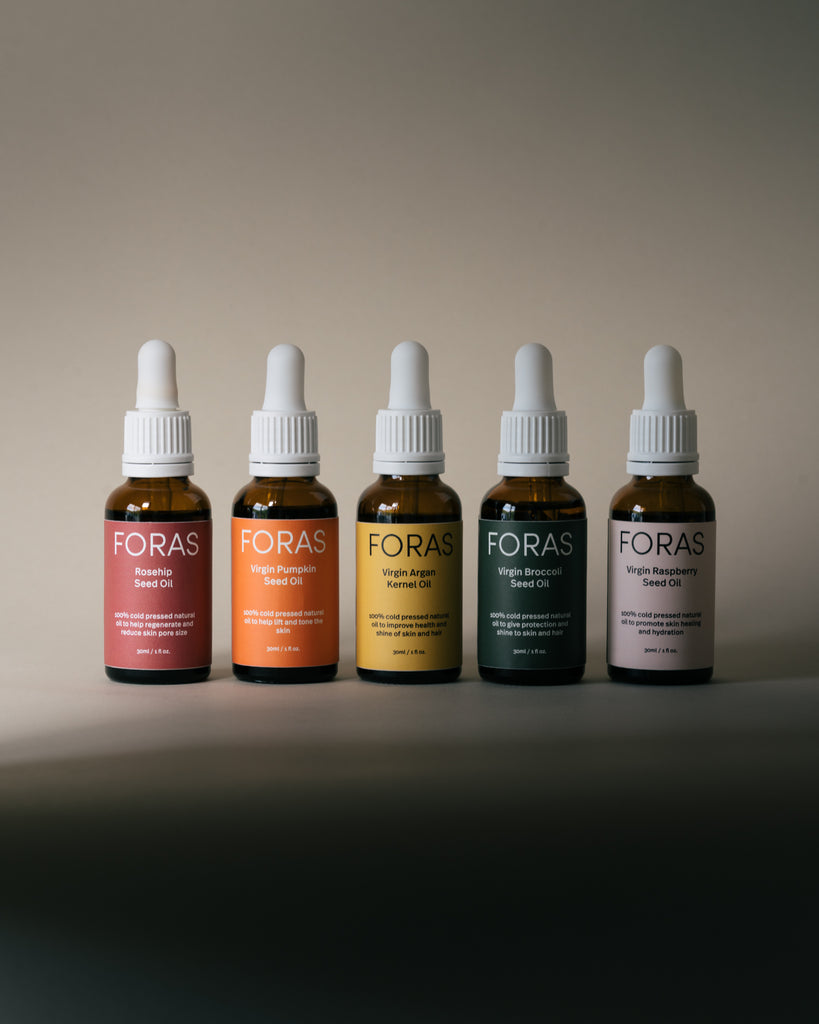 Natural oils are a true gift of nature. They contain a plethora of beneficial ingredients, such as fatty acids and vitamins. We have chosen to manufacture five of the best types of oil out there and today we are going to tell you more about their properties - in brief, we will show you how amazing they all are! And if you are worried that oils might not be good for you because you have skin issues or oily skin, then we are happy to say that certain oils are perfect for acne and all skin types, so carry on reading!
Argan oil has a very high content of Omega 6, Omega 9 and antioxidants which means that if offers many benefits such as protection and rejuvenation of the skin. It also has anti-inflammatory properties and may reduce signs of ageing in the skin. It also penetrates very quickly into the skin and leaves no oily film. You can make a nutritious facial serum by mixing argan oil with rosehip seed oil. Argan oil is great for tired and dehydrated hair too as leaves it protected, moisturised and with reduced frizz.
Although broccoli might seem like a basic plant, broccoli seed oil has quite sophisticated properties - with incredibly high percentage of erucic acid it feels and acts like natural silicone that is silky and doesn't leave an oily film. If you want to give your skin a natural glow, look no further - broccoli seed oil is there to help you! It's recommended to use this oil as a base in your skin conditioning routine, just before applying the moisturiser. It's exceptionally good for nails and cuticles and is also perfect for hair treatments as it helps control split ends. It's amazing for people in their twenties and thirties as it helps diminish the appearance of fine lines and prevents UV damage. It's also good for skin with problems - it may help with dermatitis, rosacea, and psoriasis.
Another underestimated oil is the one made of pumpkin seeds, great for people with acne and skin where anti-acne products have been overused, as it contains zinc, widely regarded as an important mineral for skin health. Broccoli seed oil is rich in Omega 6 and Omega 9, great for lifting the skin, and in magnesium that regulates cellular regeneration and repair. These factors make it an excellent oil for people aged 40 years old and older; it also helps retain moisture in the skin, working against the creation of fine lines and wrinkles. It's also a great oil for sores and to reverse UV damage, so it's perfect for mature skin with problems. Mix it with broccoli seed oil to create a powerful cuticle serum. You can also use pumpkin seed oil for your hair as it helps with hair growth and thickness; it's really lightweight too so you don't have to worry about oily appearance, in fact, it will make it feel soft and nourished, with reduced dandruff.
Raspberry seed oil is perfect for sensitive skin, especially in conjunction with rosehip seed oil. It's deeply nourishing and emollient, leaving the skin supple, softened and protected against UV light and the elements. It has very good UV absorbing properties - some sources claiming protection of a factor between 28 and 50. As it is a very lightweight oil, it can be mixed with heavier oils. It contains a high amount of Omega 6 and Omega 3 making it perfect for everyday use - it's even suitable for oily and combination skin as it doesn't clog the pores. It also promotes anti-inflammatory and healing properties and it provides moisture retention for the skin and the hair.
Rosehip seed oil is another fantastic example of an all-round beneficial product. Great for dry and damaged skin, it can also be used on oily and combination skins as it absorbs very quickly without leaving an oily film, making it perfect for everyday use and under makeup. As it is intensely yellow, it will give your skin an even tone and a healthy glow when spread well (mix it with raspberry seed oil to reduce the intensity). Rosehip seed oil is great for mature skin as well as it has a very high content of antioxidant vitamin A and fatty acid Omega 3 which makes it a powerful anti-aging product that reduces wrinkles and fine lines, helping to keep the skin soft and supple. This oil is to be used on skin with acne, pimples and boils, and on skin overexposed to the elements, burnt or scalded. It is helpful for skin with other problems too - it reduces hyperpigmentation and makes enlarged pores less visible. It also normalises dry and oily scalps.
We are sure you will find a perfect oil at Foras - come to our shop at 11 Church Street in Folkestone to get special discounts on oil sets: a selection of three oils is just £33 while you can get a full set of five for just £60 - perfect as a Christmas gift!